Introduction of The University
Establishment 21 April 2008 through Act "Jayoti Vidyapeeth Women's University, Jaipur" Act No. 17 of 2008 passed by Rajasthan State Legislature & notified by the Government of Rajasthan through its official Gazette Notification no. f.2 (23) vidhi /2/2008 dated April 21, 2008.
Mission: to provide "Education for Community Development" leading to women empowerment and awareness of Women Rights and Law to all the people"
Regular Programmes offered :Engineering, Management, Commerce, Homoeopathy, Ayurveda, Physiotherapy, Optometry & Radiology, Medical Lab Tech., Yoga & Naturopathy, Pharmacy, Agriculture, Food & Biotech, Law, Design, Education & Methodology , Journalism, Humanities & Social Science, Library Science.
Distance Education Programmes offered : Humanities & Social Science, Management and Commerce, Computer Science.
Programmes to be started after approval of UGC-DEB in Journalism & Library Science.
Compulsory education and certification of "Women Rights and Law" to every student to make them a credible citizen of country.
Details of affiliation and recognitions obtained from various regulatory bodies including ugc for distance education programmes
Approved & Recognised by DEB-UGC, PCI, BCI, CCH, NCTE, CCIM and University is a member of AIU & ACU.
UGC inspected the University on 13-15 December 2010 & accepted the compliance report.
Affiliation and Recognitions
Details of Affiliation and Recognitions
University Existing Programme Details for renewal of Recognition
Name of Programme
Status with UGC-AICTE-DEC
Status with DEB-UGC
BPP in Arts & Commerce
The Tripartite Committee of UGC-AICTE-DEC Provided Program wise Recognition for 2011 to 2014

No other Regulatory bodies are applicable forthese programmes.

No Other Regulatory bodies is applicable on these programmes.
BCA
MCA
MCA (Integrated )
B. Com.
MBA
BA (Hindi/Economics/ Pol. Sc./ English)
MA (Pol. Sc.)
MA (Economics)
MA (History)
MA (Education)
Details of Affiliation and Recognitions
University's New Programme Details to be offered after fresh Recognition
Name of Programme
Status with DEB-UGC
DCA (I & II Sem of BCA)
Only DEB-UGC is regulatory body, no other regulatory body is applicable for our new programmes.
PGDCA (I & II Sem of MCA)
BBA
BA(Journalism)
MA (English)
B.Lib
Details of Recognition for Distance Education Programmes
S.No.
Year of Recognition
Institutional or Programme wise
Recognized by DEC /UGC
From
To
1
2011
2012
Programme wise
DEC
2
2012
2013
Programme wise
DEC
3
2013
2014
Programme wise
DEC
4
2014
2015
Programme wise
UGC (DEB)
5
2015
2016
Programme wise
UGC (DEB)
Academic Calendar
Academic Calendar for Distance Education Programmes
Sr. No.
Name of the Activity
Tentative months/year wise schedule
Semester wise
Year wise
1
Admission
JUNE & DEC
JUNE & DEC
2
Distribution of SLM
JULY & JAN
JULY & JAN
3
Contact Programmes
Every MONTH
Every MONTH
4
Examination
JUNE & DEC
JUNE & DEC
5
Declaration of Result
JULY & JAN
JULY & JAN
Admission Method
Method of Admission for Distance Mode Programmes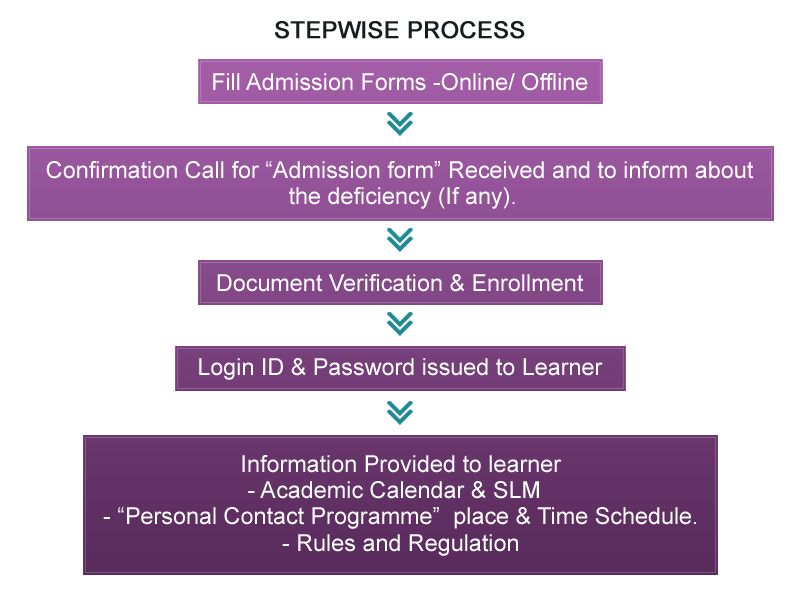 Method of Conducting Personal Contact Programmes
SLM and Information about Personal Contact Programmes place & Time Schedule is given to learner.
Face to Face Counseling

At empanelled School/College/ Institute Premises
By empanelled Academicians/experts

Online Mode :

University Interactive online portal - E-Shikshak , to provide E-Lecture, E-Lab, E-Library, E-Counseling etc. developed by CDAC, Hyderabad.
CD's of SLM are also provided to Learners.

Radio Broadcast :

Audio Lectures are recorded and delivered to students as per curriculum on 91.2 FM through University Community Radio Station and are also available on newly launched FM App – Jayoti Vani.
Methods of Preparing SLM & Various modes of delivery
SLM is developed by

Refinement done by organizing workshop with help of DEC & IGNOU to train our faculty members and course co-ordinators.
Modification of SLM of Different Universities, online available data on authentic websites.
Learning Methods of three types is provided

Printed SLM
Visual (Video) LM
Audio (Radio) LM

Printed SLM

Prepared by University Faculty Members and experts from other Universities.
SLM based on the concept of self explanation, self contained, self directed, self motivated, self evaluative and self learnable.

Visual (Video)LM

LM is also prepared by recording of Video Lecture in lecture hall in interactive mode with the help of PPT or Faculty also is recorded in "University Studio" and then delivered through different online ways including E-Shikshak.

Audio (Radio)LM

LM is also prepared by recording audio at University Community Radio Station Studio and than delivered through 91.2 FM Community Radio Station, it is also available on newly launched Launched FM App.
Method of Evaluation/ Assessment of Students, Declaration of Result & Award of Degree
Question Papers are finalized by Moderators, among the papers prepared by different paper setters.
The Department of Examination prepares a panel of examiners and centralized evaluation is conducted. After the tabulation work, result is declared.
Evaluation is based on two assessments i.e. Continuous Assessment & End Term Examination. The Continuous Assessment is of 30% and End Term Examination shall be of 70% marks.
Declaration of Result:
Result is declared online
Award of Degree:
On successful clearance of all subjects of programme & completion of credits.
Method of Redressal of Grievances of Students
University Redress Cell (URC) and Internal Complaints Committee. Method of Redressal of grievances:

Complaint registration at Registrar Office
Complaint registration number issued
Complaints entertained within 7 days

Conduct Enquires
Provides assistance and reprisal to victims
Recommending penalties and taking action against defaulter.
Weather any programme is offered online If Yes Give Details
No
Weather Term End' Exam held 'Online' for any program. If yes give details.
No any 'Term End' Exam held 'Online' for any program.
Details of Mobility to Entry & Exit
Programme
Duration for Exit
Earn Credit Certificate
M.A.(PS)
1 yr
Post Graduate Diploma in Political Science leading to M.A in Political Science
M.A. (Eco.)
1 yr
Post Graduate Diploma in Economics leading to M.A in Economics
M.A. (His.)
1 yr
Post Graduate Diploma in History leading to M.A in History
M.A. (Edu.)
1 yr
Post Graduate Diploma in Education leading to M.A in Education
B.A.
1 yr
Diploma of Arts leading to B.A
2 yr
Advanced Diploma in Arts leading to B.A
MBA
1 yr
Post Graduate Diploma in Administration leading to MBA
BCA/ MCA (Int.)
6 Months
Certificate of Computer Application leading to BCA/MCA (Int.)
1 yr
Diploma in Computer Application leading to BCA/MCA (Int.)
2 yr
Advanced Diploma in Computer Application leading to BCA/MCA (Int.)
MCA
1 yr
Post Graduate Diploma in Computer Application-PGDCA leading to MCA
2 yr
Advanced Post Graduate Diploma in Computer Application-PGDCA leading to MCA
B.Com.
1 yr
Diploma of Commerce leading to B.Com
2 yr
Advanced Diploma in Commerce leading to B.Com
Details of DDE